The main reason to visit Dana was because Dana Biosphere Reserve boasts some of the best hikes in Jordan, many people skip this place or just came to spend some hours, we wanted to do some trecks so we stayed 3 nights. 
We arrive around 16:30 to Nawatef camp with time enough to go to see the sunset. After a tasty dinner in the common area we arrange the trek for the next day: Wadi Ghwueir, we have read before that it was a beautiful treck and it is completely true.
Our treck started from Al-Navated camp area reaching Wadi Ghwueir by passing througth Datnheh valley. The first part of the trail that took us 3 hours, was for me really boring but once you get at the bottom of the valley and entry to the wadi Ghwuer the landscape change drastically.
The second part of the treck was walking along through different Siq (similar to the one in #petra) the trail leadt through magnificent sceneries of different stone formations, it took us around 2 hours.
After a much stop we start the third part: walking along the river (get ready to get your feet wet) where you can find many unique plants and trees on both sides of the river.
This treck is amazing, especially the part where you go through the canyons, he different colours of the rock formation are stunning.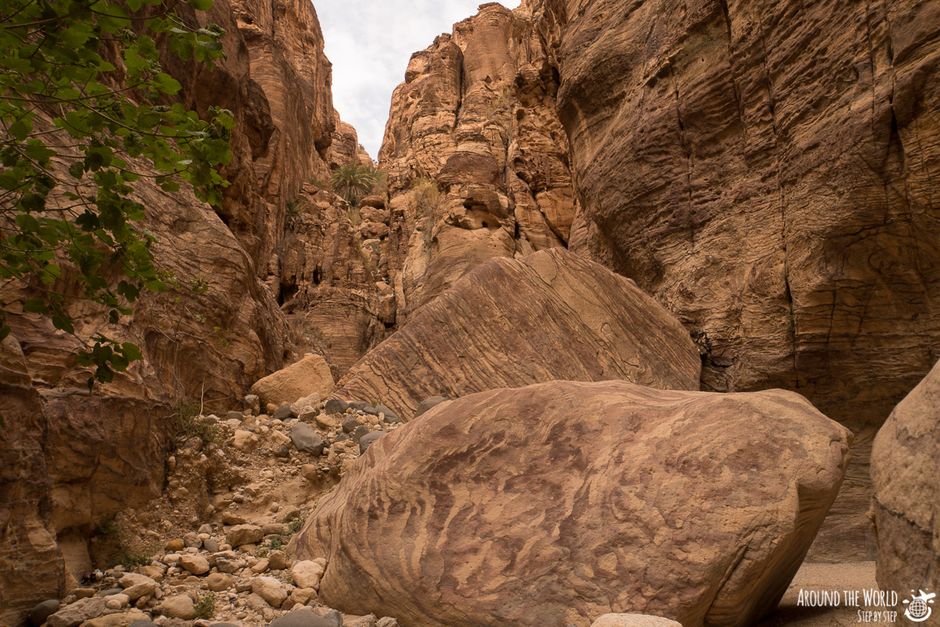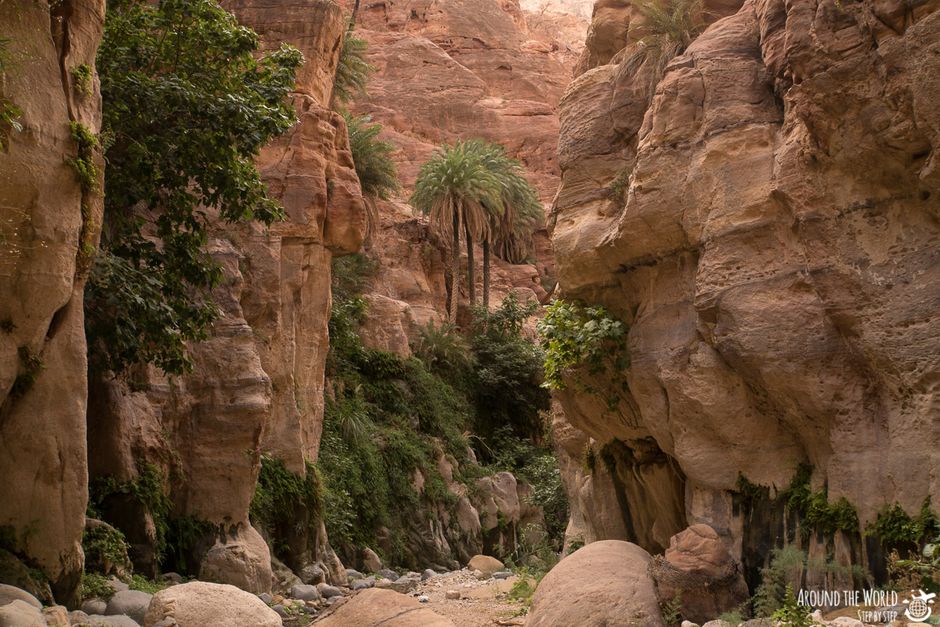 A guide for this tour is mandatory, there are 5 points where i ned help, so be ready for  little scrambling up, down or sideways across rocks like a crab. During raining season is not possible to these treck because of the risk flash food
I'm not so sure how long is this treckeing but my mobile says that I walk around 25km that day, of course we started from Alnawatef camp that added to the wadi Ghuweir three more hours of walking. After the treck (which ends close to Feynan Ecolodge) there is a 2 hours car ride back.
The second day we decide to walk de dana trail, supposed to be 16km from Dana Village to Feynan Ecolodge.
We started walking from Dana village and we didn't now that you have to pay a permit, so after walking 20 min downhill, we had to go back to the village again, and since I had quite a bit of muscle pain from the day before, this was not funny at all.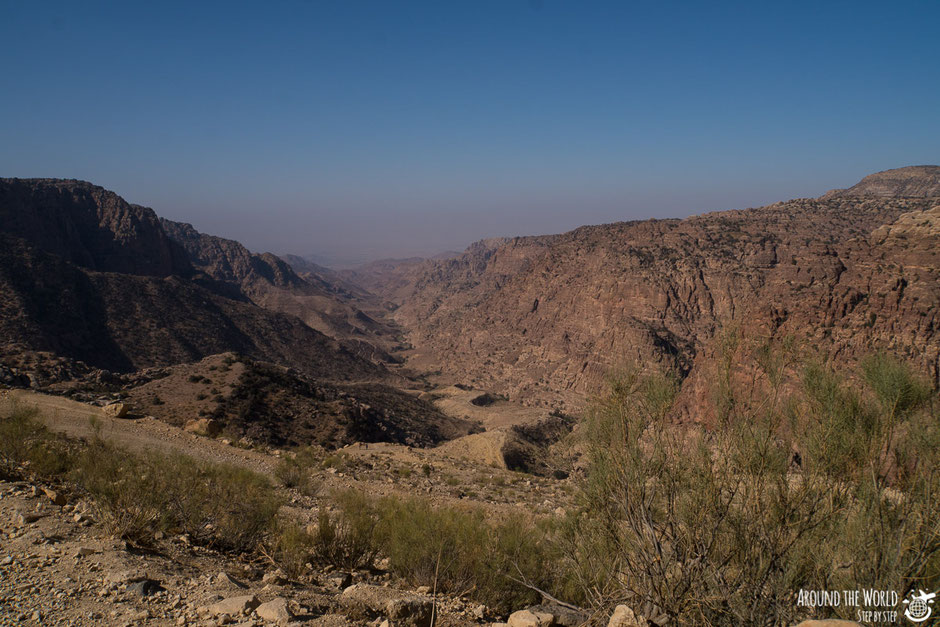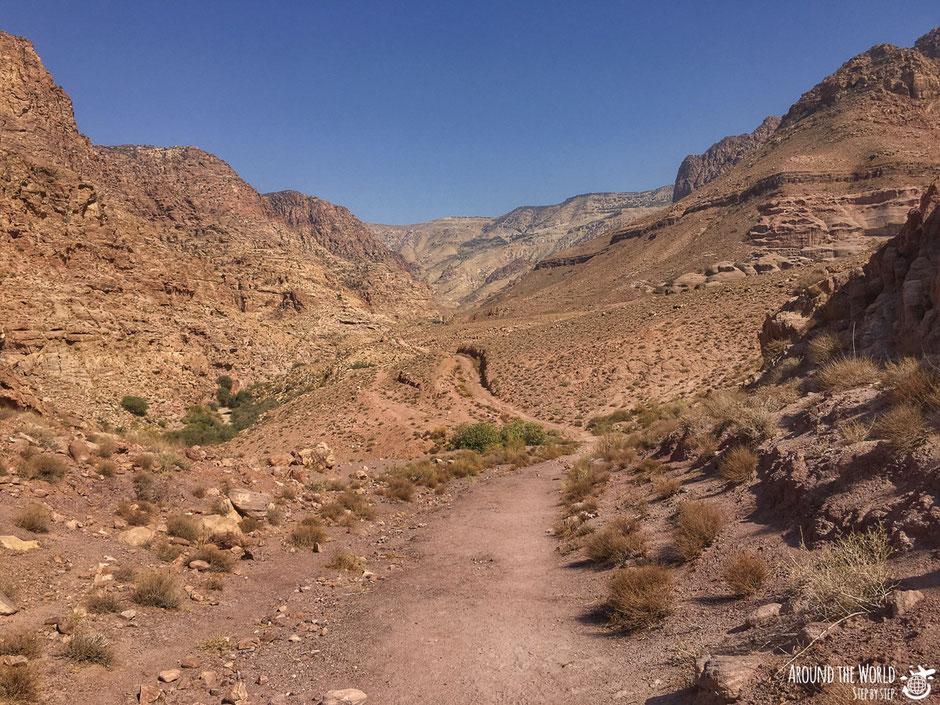 Rocky mountain terrain and valleys, and wide open expanses, that is the landscape the hole treck. We only did more or less half of the way and then return back. It was a hot day, and there is almost not schadow in the howle treck. In comparison from the treck on the day before this is not as spectacular, easiest dough.
On our way back we stop to talk with a shepherd, that called us and invite us for a tea, an with another group of men that wanted me to take a pictures of them.
Although we visited the Dana Village al little bit, at the beginning and at the end of the Dana trail, for me was nothing special.
---
Al Nawatef camp:
Beduin style camp in a great location. Basic tents and share badroom. Only one electricity point in the common area to charge mobiles, and batteries, no wifi but if you have a Jordan SIM card you will get connection.
Buffet for lunch and dinner really tasty and super friendly staff.
There are 3 different kind of accommodations here, we book  a tipi tent(basic one), but because there were space  available we receive an upgrade and pay the price of the tipi  (3 nights 45JD).
Breakfast is inclusive,7 JD for dinner buffet. Tea all day round.
Wadi Ghuweir 30 JD (includes guide, lunch box and transport)
Taxi to Dana village 10JD each way(from Al Nawatef)
Dana entry 8JD
(al prices as per Oct 2019)