I landed in  Phillipines the 31th of October, in Cebu (the second biggest city after Manila), my idea was to head Maya, in the north of the island because I wanted to go to Malapascua. In the way from the airport to the bus station I have a weird feeling, I was surprisily not surprise of what I see, am I used to Asia?
My second impression of the Phillipines was kaos. Tons of people (literally tons) in the bus station. There were two sign to Maya (where I wanted to go), one with AC one without, since I didn't know the timetables/frecuency of any of them I just chose the shorter queue at the moment. After waiting around 4 hours an seen that I wasn't close to take bus, I decide to slept in Cebu city and try to take a bus early in the morning.
The next morning I woke early and went again to the bus station, this  time was almost empty and I quickly took a bus to Maya. Lesson learnt not try to travel in the Philippines the day before a bank holiday/long weekend.
I love to travel by bus with local people, is always an experience. This time was not different. The bus hat 6 places each row, that means 3 in each side. Well, I not big but still only half of my butt was on the seat, I didn't have place for my legs because the aisle was also full (no matter how full is the bus, there is always place for more  people)
After 6 not really comfortable hours I arrived to Maya,  Malapascua is just in from of it (30 min boat ride),
Malapascua is a small Island in the north of Cebu (only about 2.5 by 1 kilometres.).
Is a famous dive destination because you can easily see the thresher shrarks (easily, not guaranteed, I didn't see any).
Apart from diving in Malapascua you can go snorkeling or just enjoy the beachs a relax.
The Bounty Beach is in the south of the island and it's full of Hotels, Restaurants and Dive centers. The beach itself is nothing special .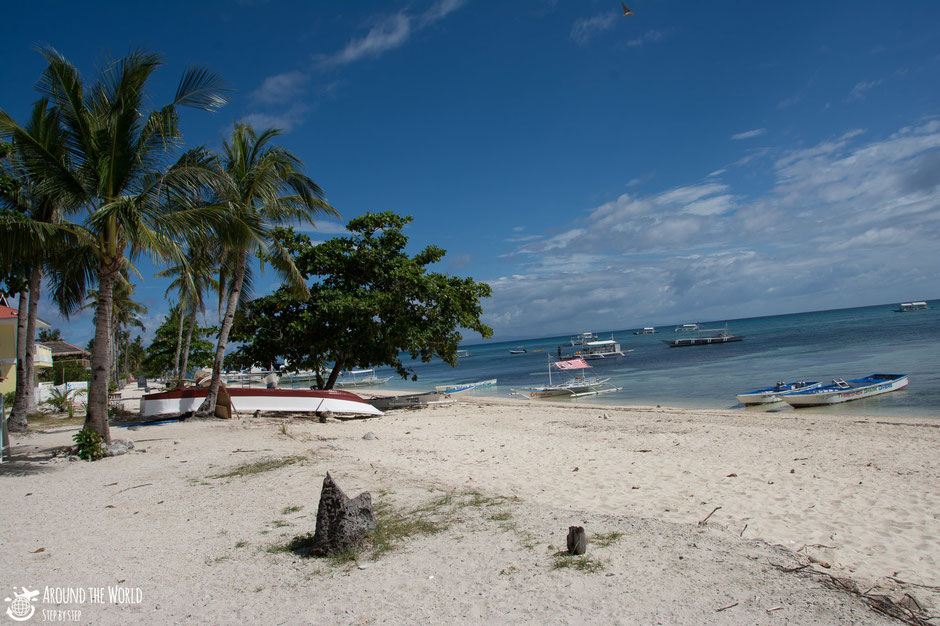 If you head to the north of the Island  in about 30 min( just asked for the  lighthouse ) you will find and amazing beach almost empty or just with a few locals. The left side of this beach you can find and abandoned resort (Malapascua was strongly damaged by the Yolanda Typhoon back in 2013, especially the north part of the island).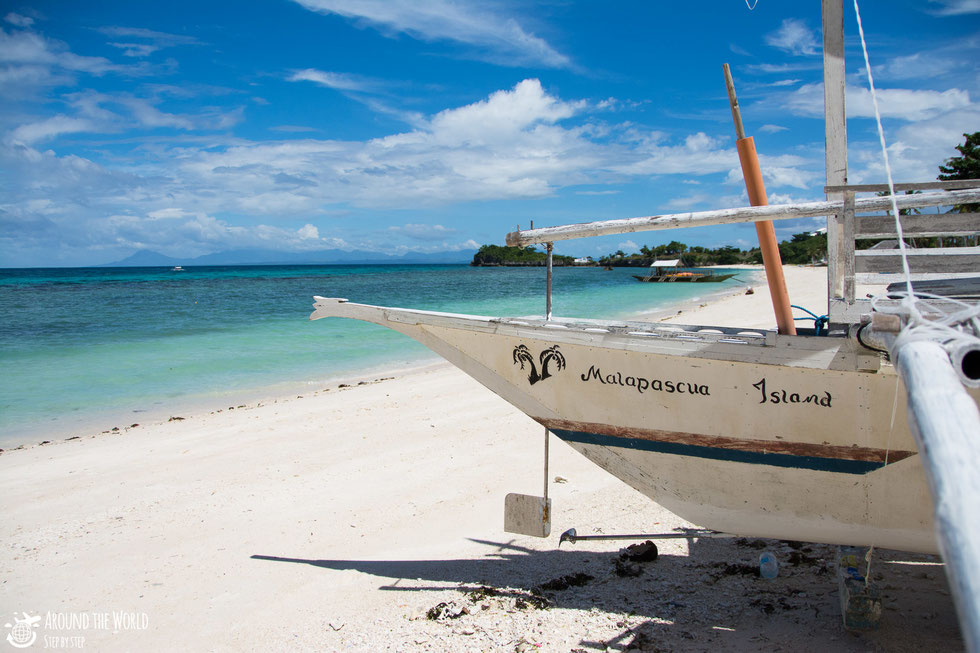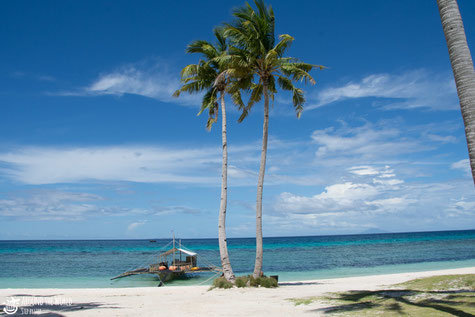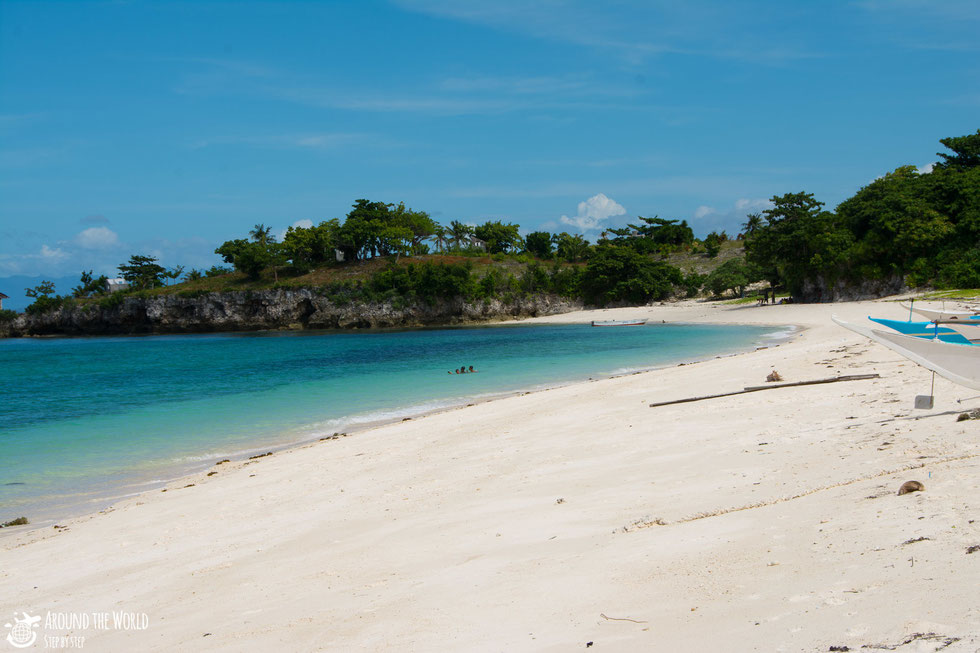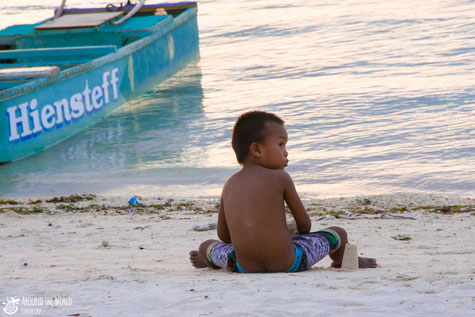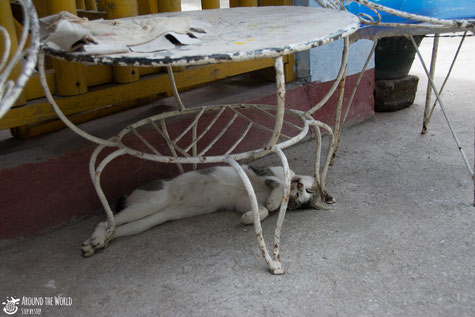 After spending 4 days in Malapascua I went to Cebu city again just for one night before to reach Bohol. The bus trip was also interesting, I was seating just in front of the bus side by the driver, and he was on a hurry because he was going quite fast and honking every 10 seconds, I sow a couples of passing kind of  frightening, on the bride site this time I was traveling with a buddy sitting in a 2 place sit so I was not as uncomfortable as on the outward journey, just a little more scare :S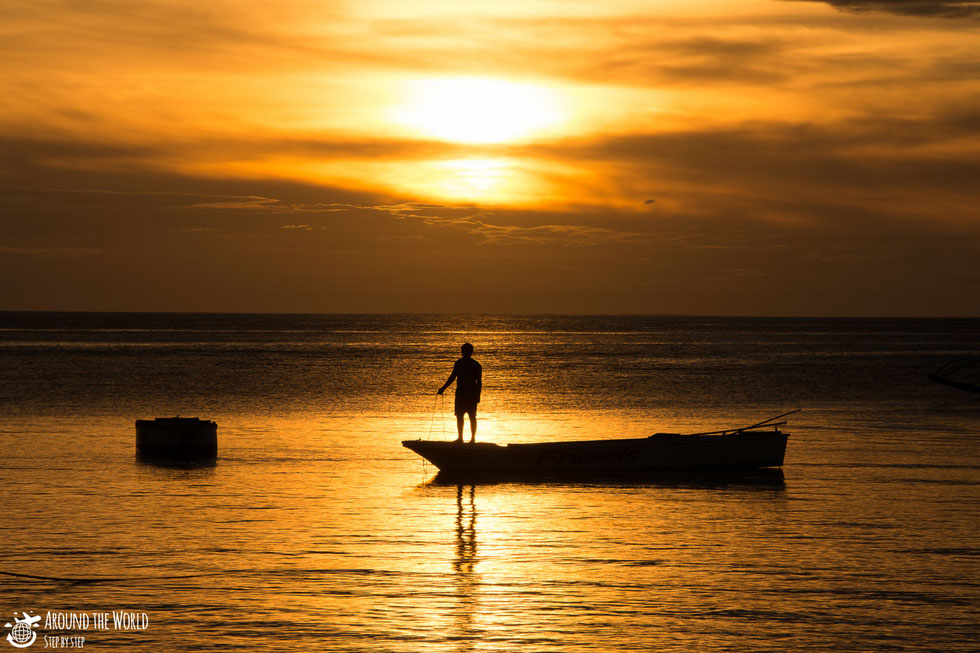 To go to Malapascua from Cebu city you have to take a bus from the North station(station fee 10php) to Maya it will take between 6-8h (price 160 php)

In Maya you have to take a boat (30 min) the price is between 80-100 php, don't pay more of 100. Depending of the tides you will also have to paid a rowboat from the coast to the boat (20Php).

Ging-Ging's Restaurant Possibly one of the more cheaper Restaurants in Malapascua.

No ATMs in the island.
---
It's the 10th largest island in the Philippines, two hours 2-hour boat ride away from Cebu.
Most of the people who come to Bohol stay in the neighbor Panglao island.
In Bohol there is some interesting things to see (you easily can rent a bike of take a tour to see the island)
The Chocolate Hills are a geological formation that can only be found in Bohol. There are at least 1,268 hills of 30 to 120 metres high spread over an area of around 50 square kilometres. Its name came from the colour they have during the dry season that looks like chocolate. Otherwise, the hills are covered with grass.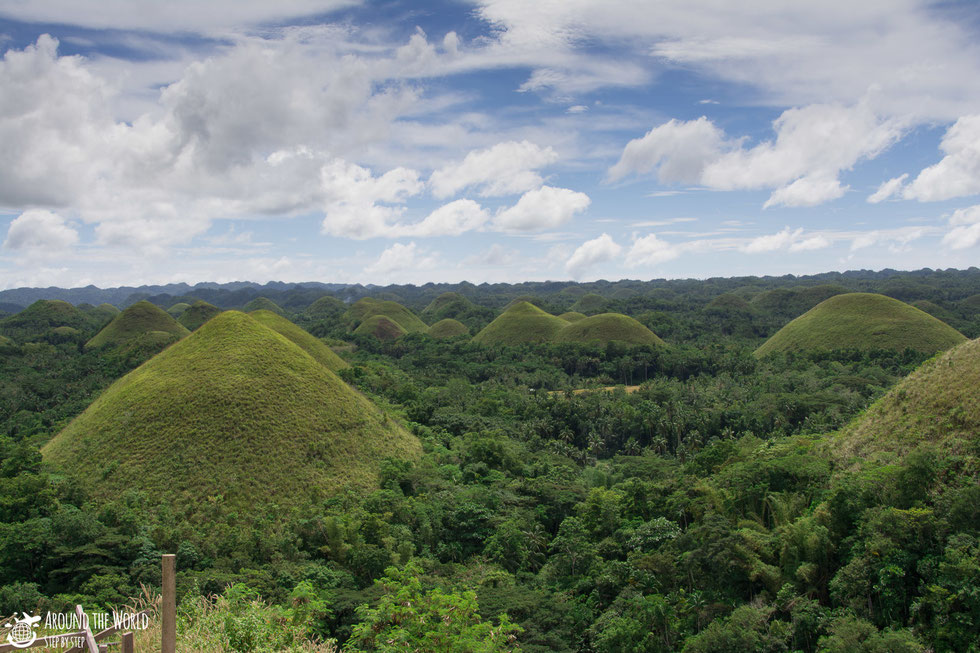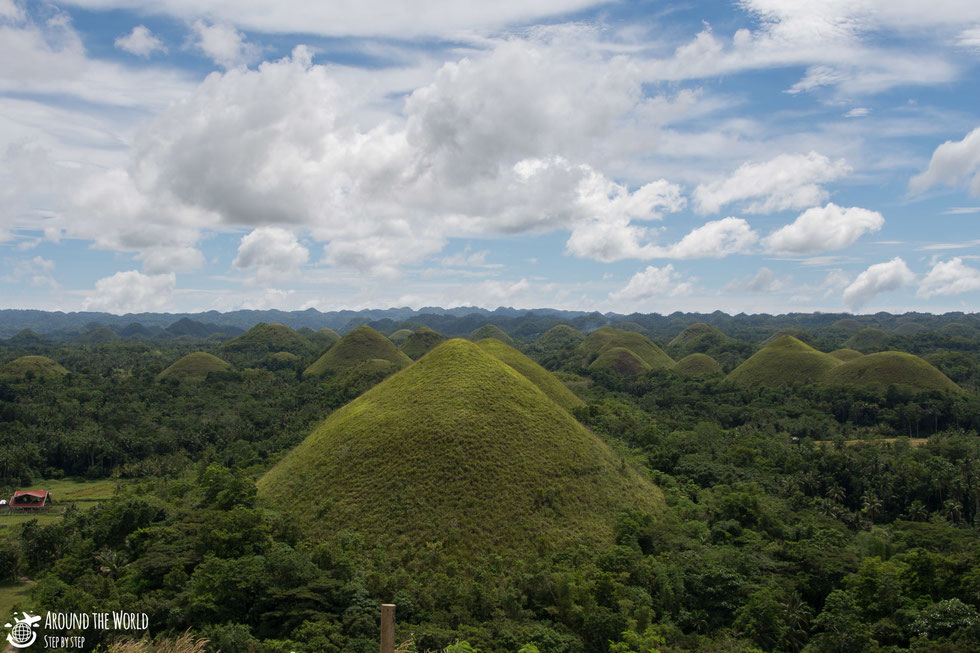 There is a Butterfly Conservation Center, you can also take a cruise in Loboc River or see the Man-made Forest. As the name implies, the forest is man-made as its trees are planted by the locals, it has 2 kilometres of densety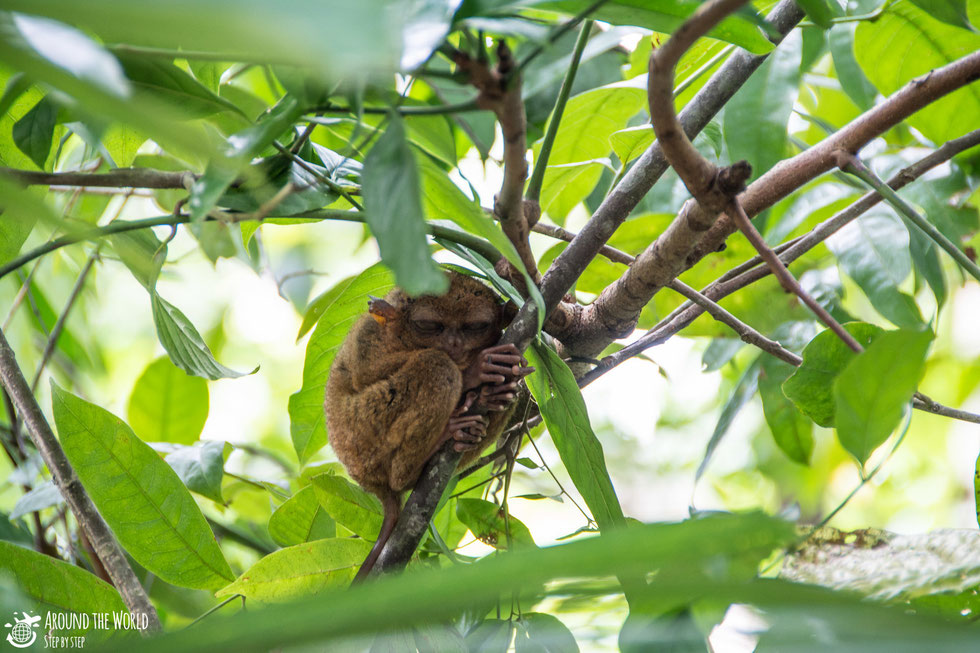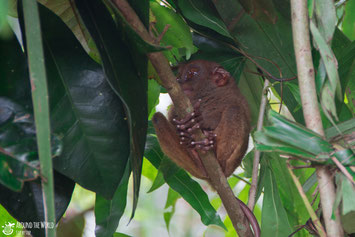 The tarsier is widely considered as the world's smallest primate and is also deemed as an endangered species. The tarsiers, nocturnal animals, weigh maximum 150 grams. The main characteristic of tarsiers are big brown eyes and they can rotate their head 180° in each direction.  DON'T USE THE FLASH to take a photo of them, if they get stressed , they tend to commit suicide. True story!
Close to Bohol is  the Panglao Island (there are to bridges that cross from one to the oder). The most popular place in Panglao Island is Alona Beach, a 1.5 kilometer long stretch lined with coconut palm trees. Along the Beach you can find all kind of accommodation, restaurants and Dive center. To dive I went to Balicasag Island, the best of the dive was tons of tourtels and an octopus.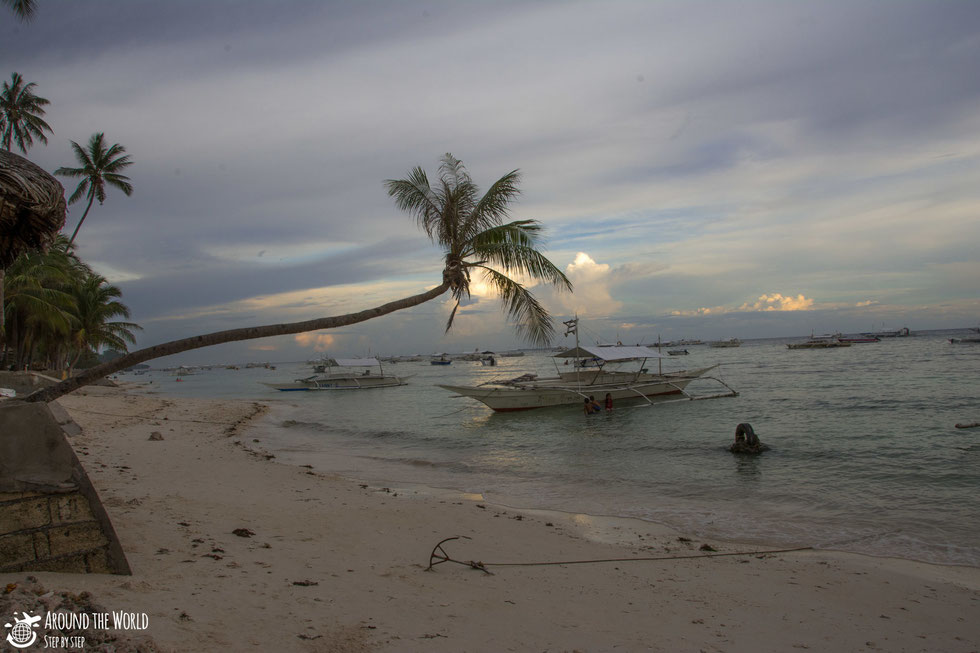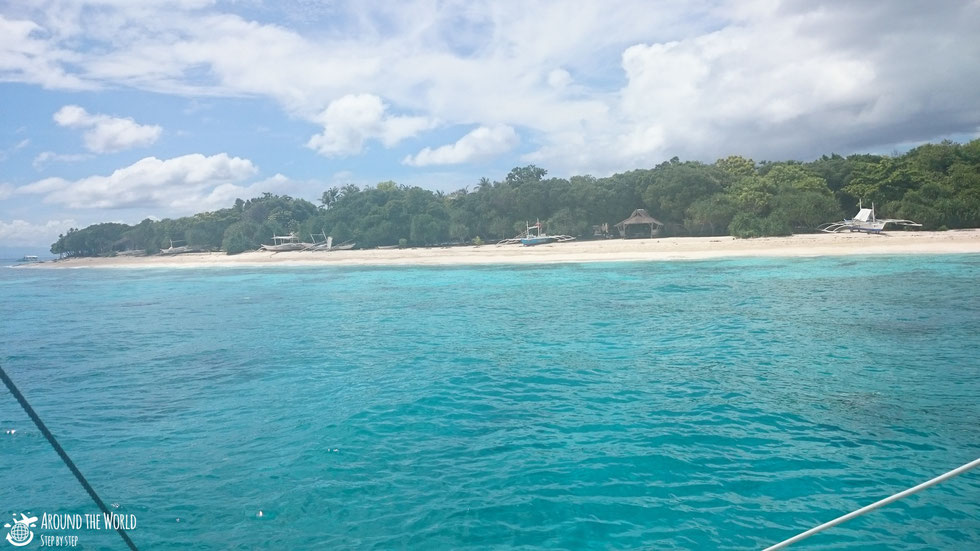 To arrive to Bohol take a ferry from Cebu city to Tagbilaran, there are several companies and several schedule, prices between 400-500 php. (

Terminal fee: 25 php Cebu port and 20php Tagbilaran port).

After asking in several Dive centers I endend up in Go-Scuba. The first dive center in beach when you came from Alona beach road (

goscuba-diving.com

). 

Price: 2 dives for

 

2000 php +250 of environmental fee.

Coco farm (Bohol Coco Farm Libaong Panglao Bohol, 6340 Panglao City, Filipinas), one of the nicest hostel I ever stay! Although is a little far from Alona beach is totally worth it. Very quiet and relaxing atmosphere, breakfast is deliciously made with vegetables from its own farm, the rest of the menu is also tasty, and the common area is a perfect place to drink a beer a meet people. (700 php for a privat or 350 php for a bed in a dorm). 

Quite busy so if you are sure to go there book in advance!
---
My last stop in the Central Visayas was Moalboal on the west coast of Cebu Island and, 2,5h from Cebu city. Most of the travelers stay in Panagsama Beach. There are several  activities to do in Moalboal, canyoning, visiting some waterfalls… and a bit of Nightlife. It was a nice place to relax for a couple of days
The White beach is a more decent beach than Panagsama and is only 20 mim tricycle ride.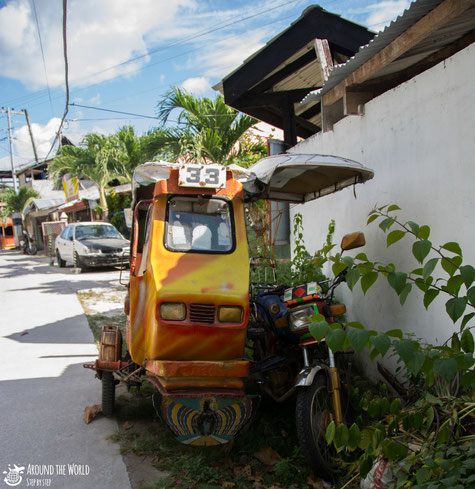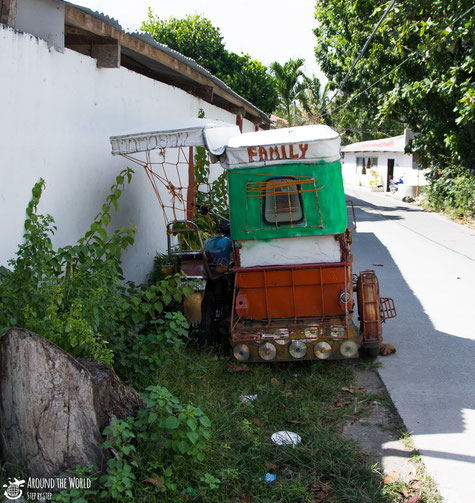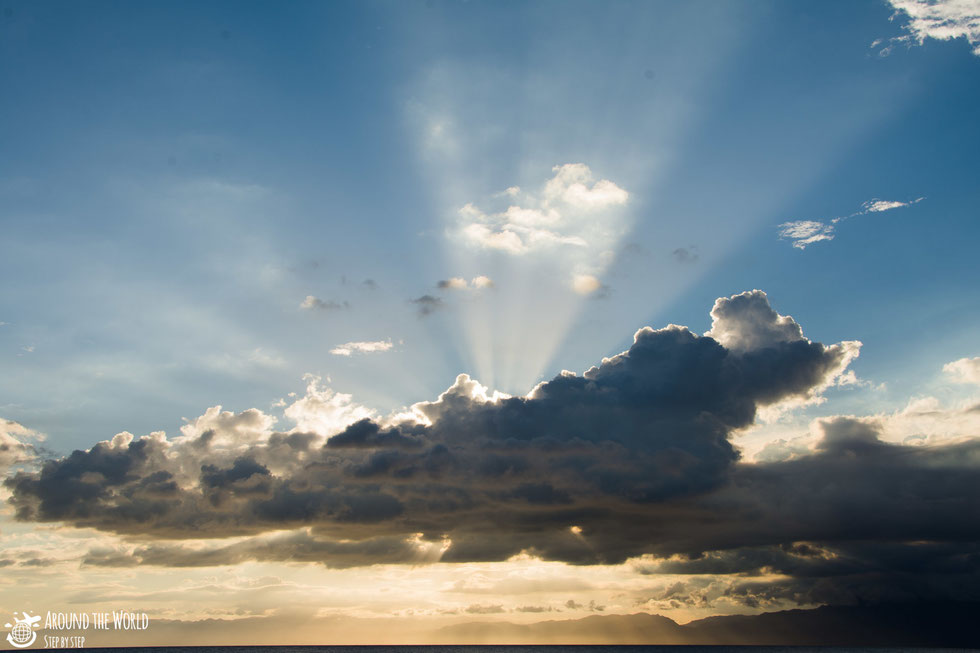 But Moalboal is above all a diving spot. The sardine run underwater was one of the highlights of my trip to Moalboal. Tons of sardines swimming together(unfortunately the quality of my photos are not good enough to show it). In Moalboal it's marine life is still rich and unadulterated. Even if you are not a diver the  Pescador island is a great spot for snorkeling.
From Cebu city take a bus from South bus station to Moalboal (110 php +10php terminal fee). 

Once there you have to take a tricycle to Panagsama Beach.

Yvonnes Apartalle (http://www.ivonnes-apartelle.com/) : Although it was like 5-10 min walking from the restaurants/ bars area the room was really clean.

 

Cebu dive center (

http://www.cebudivecentre.com

): One of the best dive center I ever dived with !! Cameron and staff were friendly and fun, equipment was new/or in excellent conditions. Price: 2 dives for 2050 php.
---
* all the prices listed are from Nov 2015