We arrive quite late to Bled like after a long day of traveling, so we just walk around the lake for a bit, it was quite quiet.
The next day even though it was cloudy we decide to walk 5 km to go to the Vintgar Gorge. It was an easy walking passing through some small villages. There are signal showing the way up to Podhom.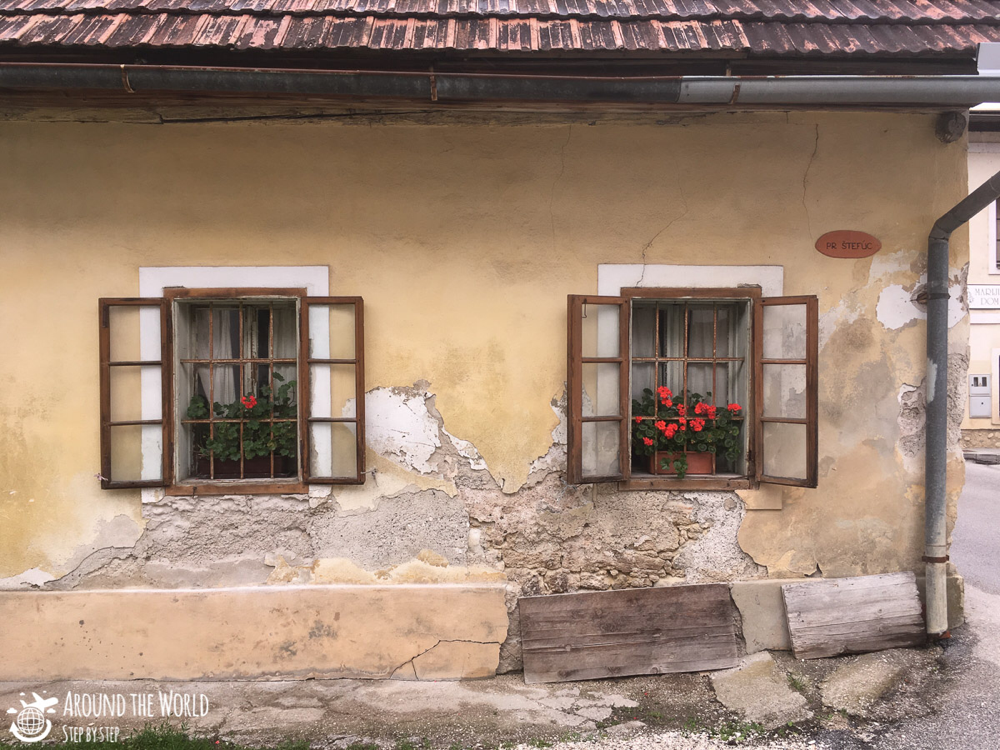 The entry costs 10€ (price in May 2019), and the 1600m route with a wooden walkway tooks us around one hour. Because It was raining I took all of the pictures with my mobile. The walk is nice, a little bit pricey and there is a couple of places (at the begining and at the end) to buy some snacks. 
At the end of the walkway we try to find the  Sum Waterfall, but we took the wrong path. So we went back to Bled making a stop in Zasip for lunch. In our way down we pass the Church of St Catherine.
---
Back at the border of the lake but from the west side of it, the one which is closer to the island. Here the views are stoning.
Most of the people take a boat and visit the Island, where there is a church as you can see, but we didn't feel doing that .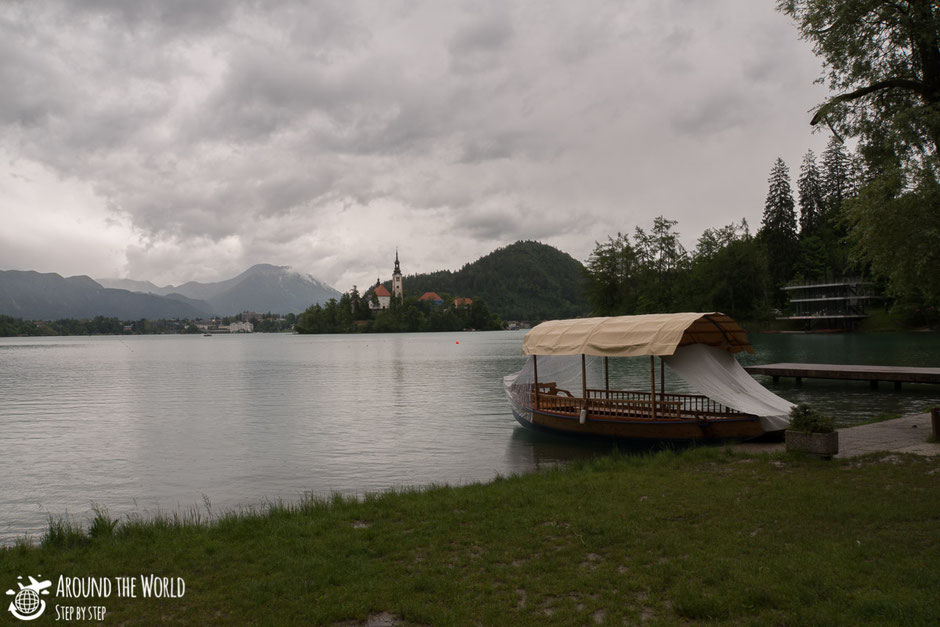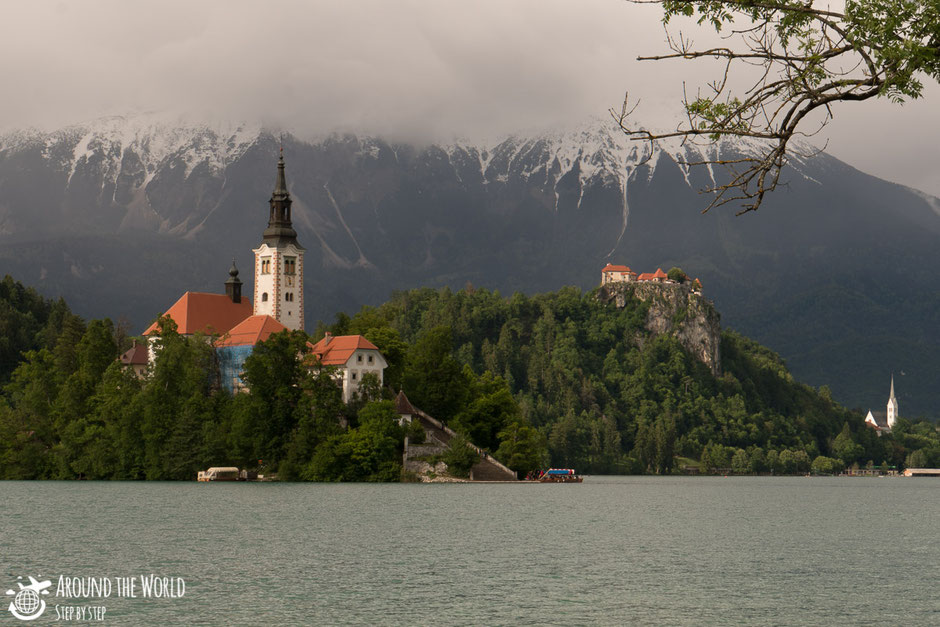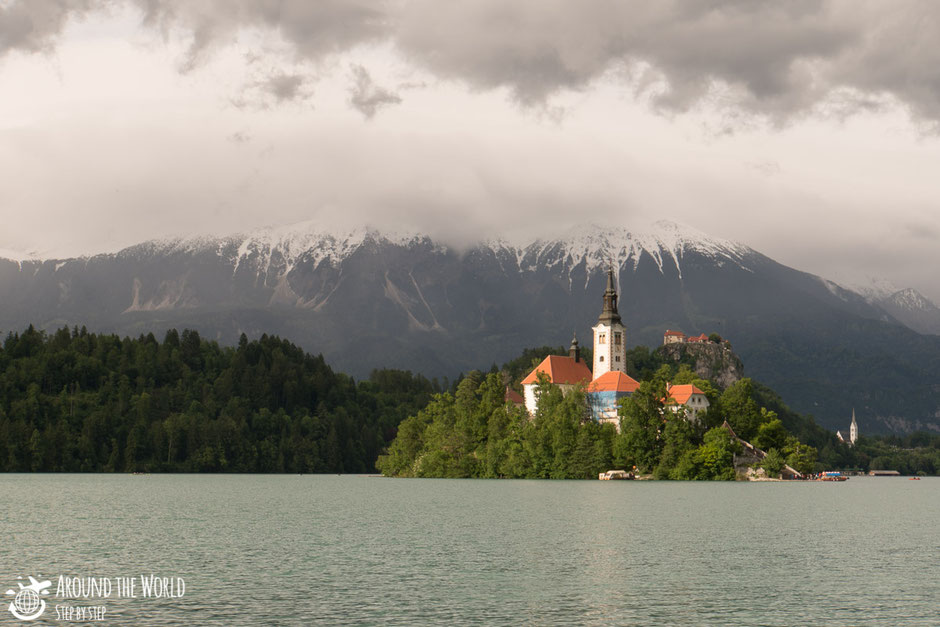 We decide to go up to one of the viewpoints that are on the west side of the lake, there are 3 differents points : Ojstrica(611 m), Mala Osojnica(670 m) and Velika Osojnica. We skipt the first one since was quit close, and went to the Velika Osojnica (756m), it was a 60 min walk with in a slippery and unmarket path because  it had been raining (signposts help you in some places, for anything else Maps.me)
Up there you get the iconic shot of Bled, and we were lucky enough to have a little bit of sun.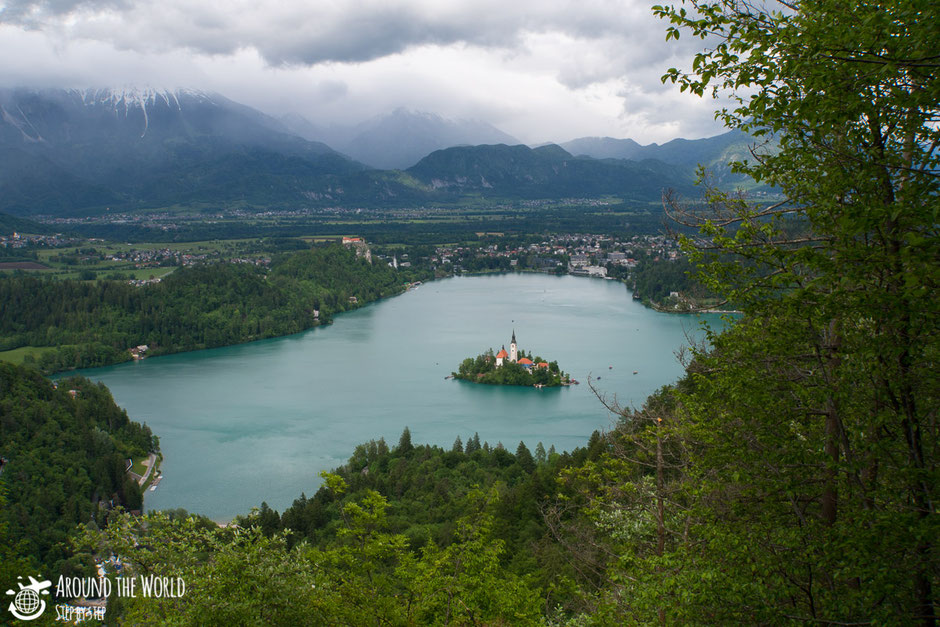 From there we walk down to  Mala Osojnica(685 m), were there is a platform were you can relax and take more photos. Descending from Mala Osojnica directly towards the lake  you have to descend on steep metal stairs (these steps are almost horizontal,
the photo that I attached does not do justice, but they are the steepest stairs I've seen in my life ) and afterwards 'zig-zag' on a narrow path secured by a wooden fence. Once you reach the road, go left and walk to Zaka on a neat path and wooden 'footbridge' just by the lake. 
There are 2 other viewpoints around the lake, one from the castle and the other Straža, but after little bit of research we thought that the views wasn't going to be as good as the ones we have from Osojnica, and since we haven't any interest on visit the castle inside we decide just to walk around the lake, make a stop in Belvedere Paviljon to try the Bled Cream Cake.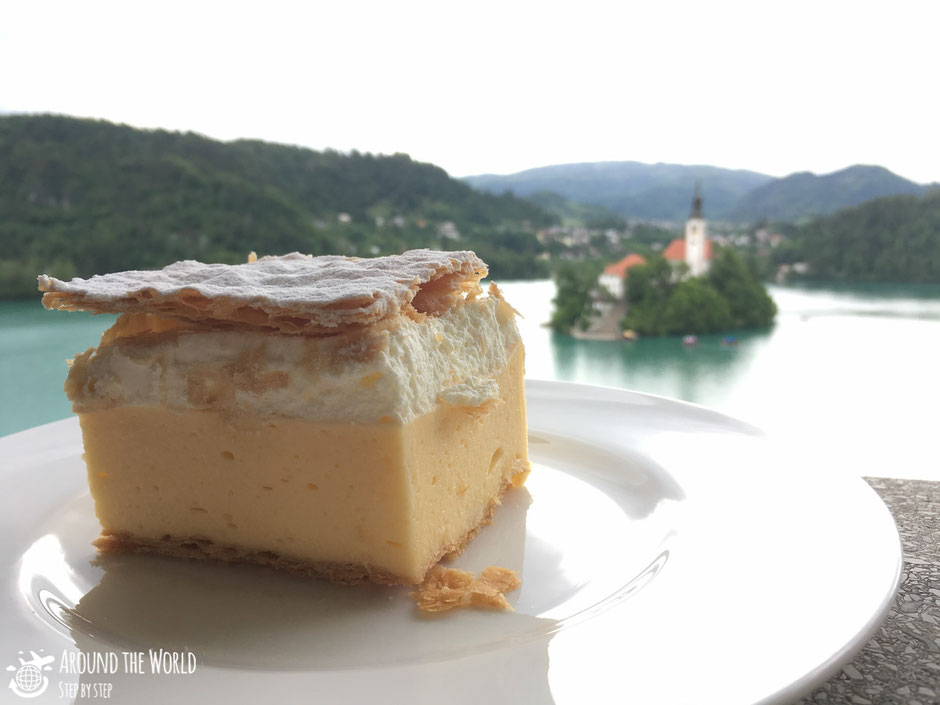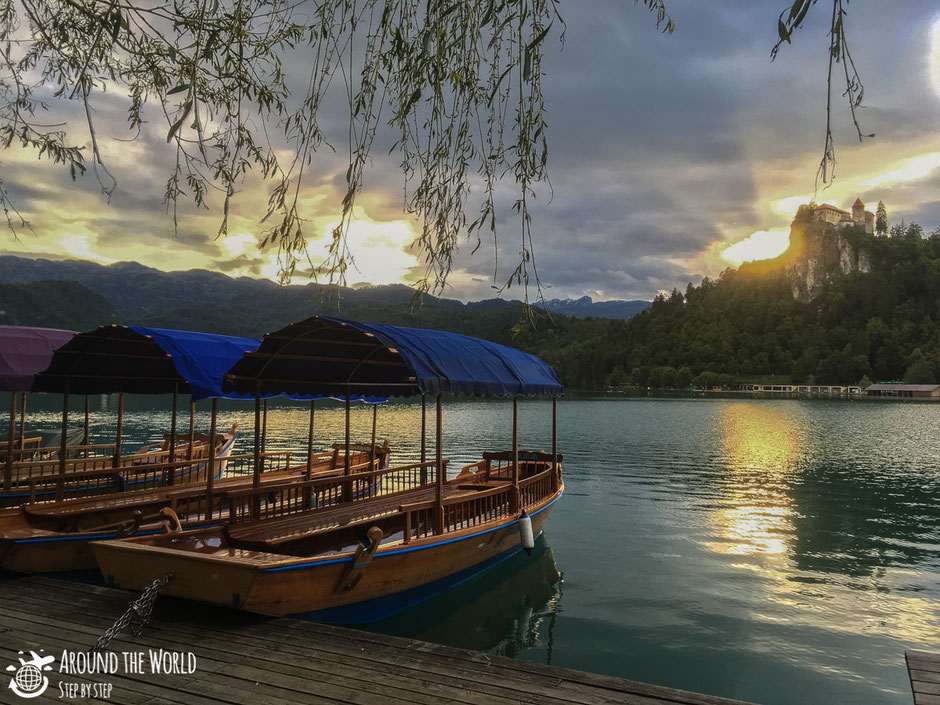 -Cafe Belvedere (Cesta Svobode 18, 4260 Bled, Slovenija)
Great view and excellent cream cake
  -Gostilna Kurej (Blejska cesta 6, Bled 4260)
On the way back from Vintgar Gorge, a simple, small place with traditional food menu
---
The next morning we took a bus to Bohinj lake. It runs every hour and from Bled take around 30 minutes to arrive to Bohinj lake. We stop earlier because our accommodation was in village called Bohinska Bistrica. From there we tried to rent a bike to go to the lake, but it was already around 13, and they only rent the bikes till 18, so we walk. We follow a Bikes path that goes parallel to the river passing by small villages.  It was around 1,5h walking to arrive to the lake. We make a short stop for lunch (we had our own sandwich and eat an icecream) before we start to walk around the whole lake.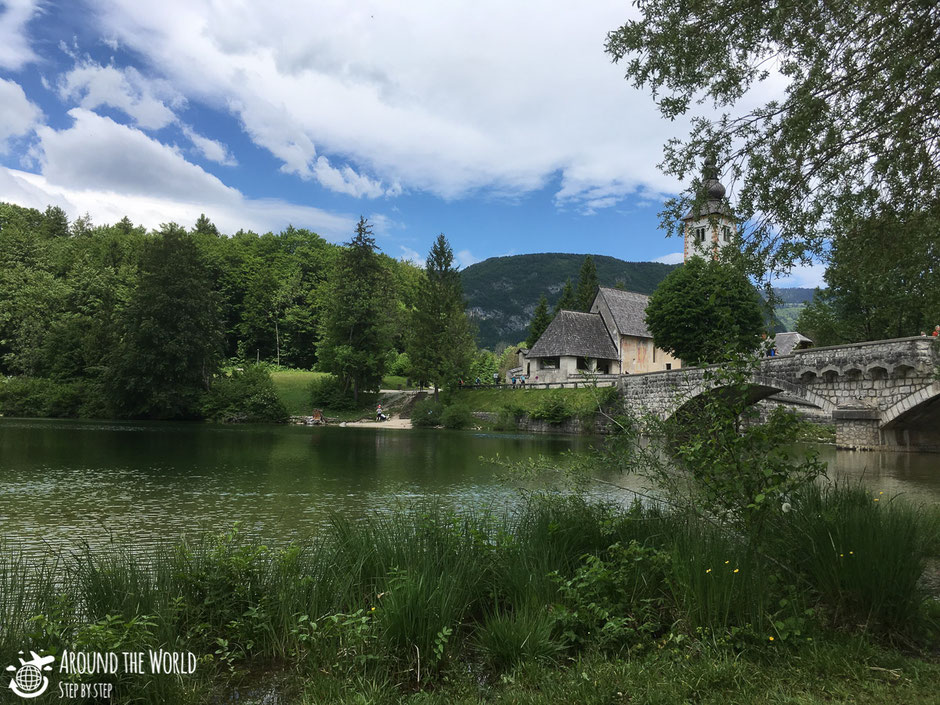 Most of the way was nice but there was a part of the path were we walk just on mud, wich make some parts a little bit difficult. Nevertheles was a pleasent walk at least the north part, with really nice views, Bohinj lake is more wild that Bled and although the colour of the lake is not as Blue as the Bled ones there are more places where you can take a bath (in Bled there is only a couple of points).  The views are beautfull because the lake is compleate sourendend by montians.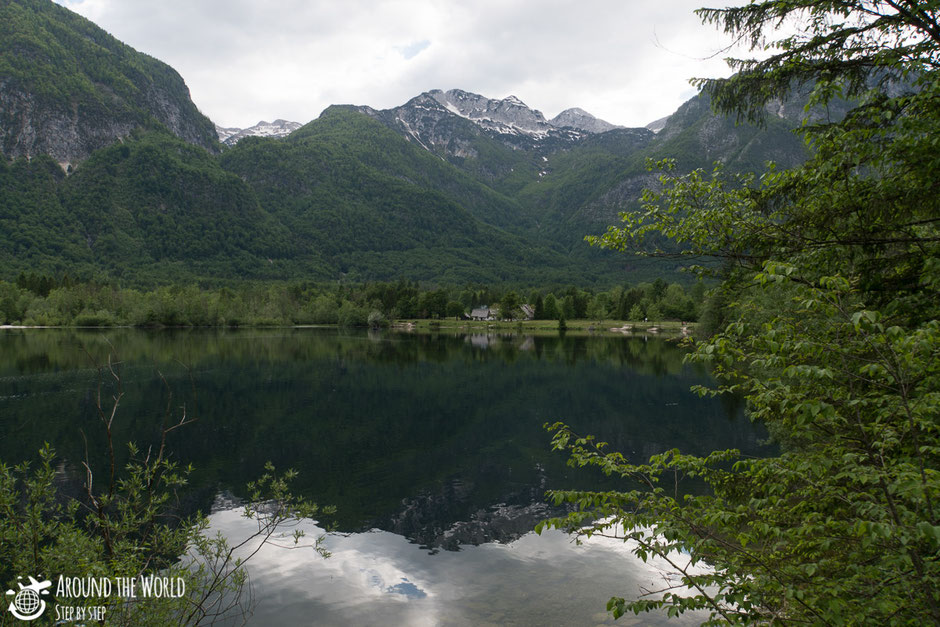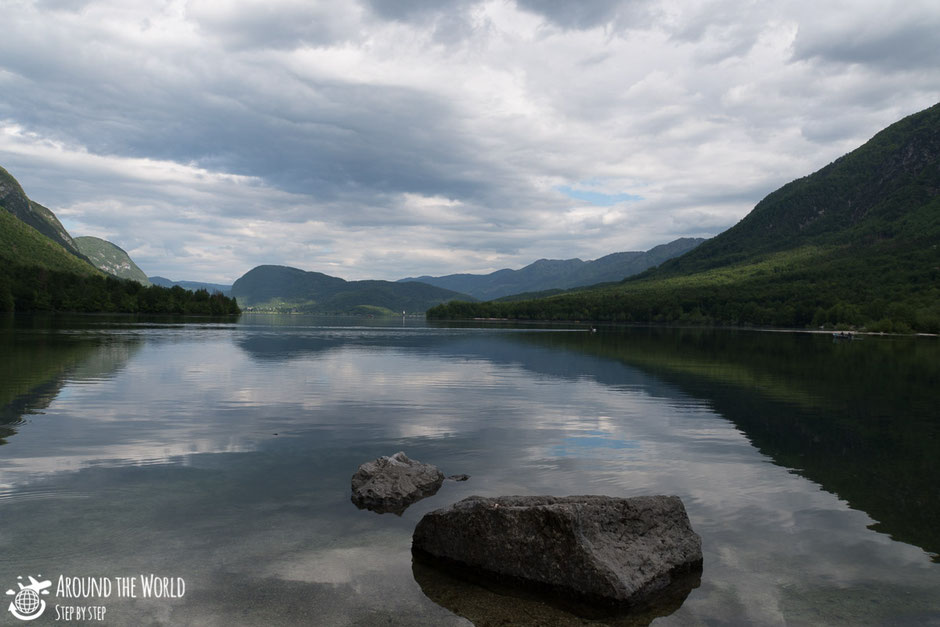 Although we walk the whole lake I will suggest to walk the north part and then take a bus in the Vogel stop (it runs once each 60 min) the path on the south side goes parallel to the road and it is quite boring.
We took the bus from Ricew Laz to Bohinjska Bistrica were we have dinner in a really nice restaurant.
We woke up early and had breakfast in the same place we had dinner. took the bus and went til Vogel. The price just change now is 24 return ticket, even if the views are stoning is really expensive.
We wanted to walk a little bit and we show some signal to de Platina Zadnji, theoretically only 35 min walking. We show on the map that you can go through one way and back from another doing like a circle. It was a good Idea or that's what we thought. We ended up getting lost and walking down a couple of red trails of the sky station. it took us 3 hours. Once we arrive to the Platina the way back to the teleferico was an easy peace walk of 30min.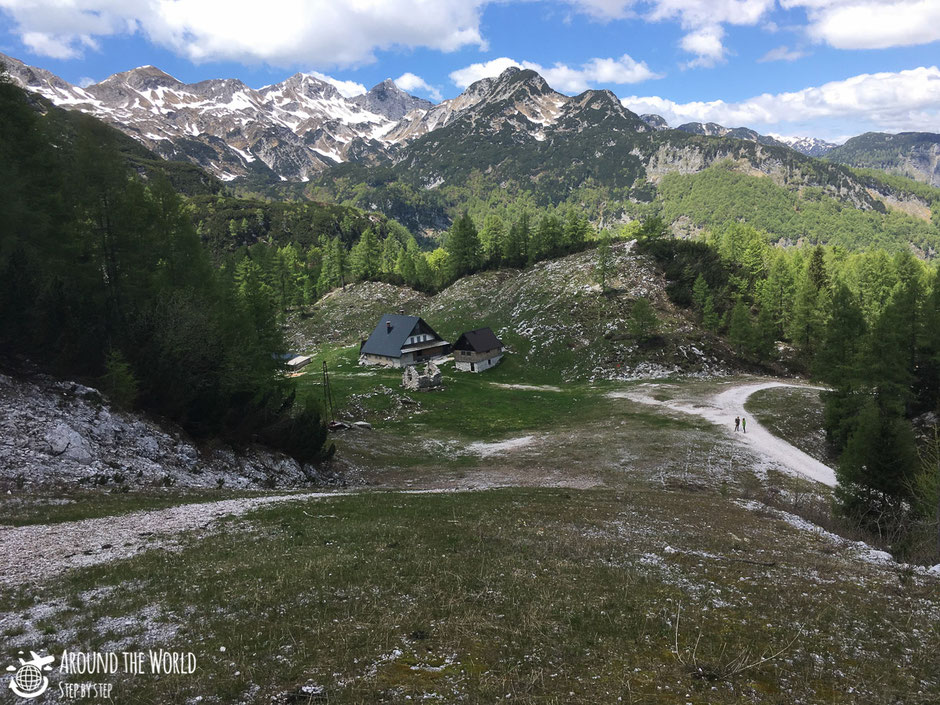 We decide to have lunch in de station which was surprised not expensive, and then back  to the villages and then another bus to Ljubliania. around 2,5h of travel.
 Apartments & Rooms Pr' Skalovc (Mencingerjeva ulica 28a, Bohinjska Bistrica, Bohinj)
Brand new apartments, really clean and with a really friendly land lord
 Strud'l (Triglavska cesta 23, 4264 Bohinjska Bistrica, Slovenia)
Cosy little place with hearty local meal and home-like atmosphere.
---